You've just flown into a sunny paradise to meet your boat for a week-long sailing adventure, but there is one question that always seems to mystify even the most seasoned sailor when dropping anchor in a new destination- "Where do we provision?"
Whether you are planning on dining out for most of your meals or trying to save a buck or two by cooking all of your meals onboard, provisioning and food costs can quickly add up. Finding the best spots to provision on every island can be tricky and time-consuming if you don't know where to go, and as provisioning costs and food availability vary greatly throughout the Caribbean, there is no worse feeling than realizing that you have come unprepared for what is supposed to be a fun vacation.
That's why we have put together a crash course in provisioning throughout the Caribbean. So, whether you're only sailing for 5 days or two weeks, we have you covered!
To start off our series of provisioning 101 throughout the Caribbean, we head to the culinary capital of the Caribbean - St Maarten.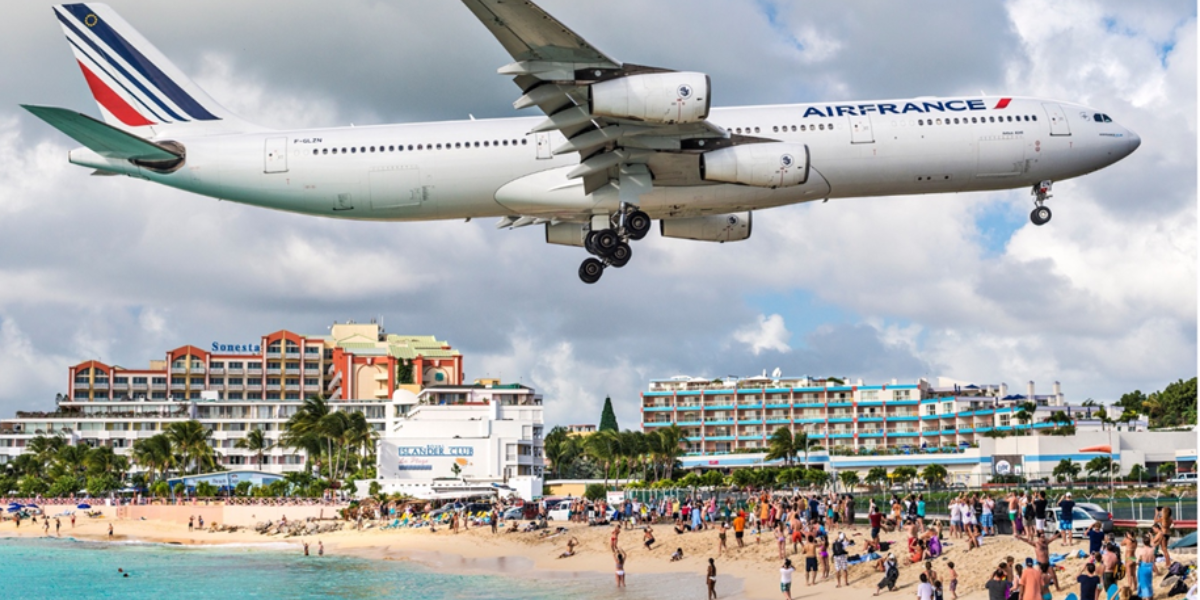 The Culinary Capital of The Caribbean
St Maarten, as it's known on the Dutch side or St. Martin on the French side, is undoubtedly the culinary capital of the Caribbean, and you will be hard-pressed to find any better provisioning throughout the islands.
The smallest land mass to be shared by two countries, St Maarten is a melting pot of cultures, and as a result, it has become a melting pot of mouthwatering cuisines influenced by French, Dutch, American, African, Latin-American, British, East Indian, and Creole cultures.
It is said that the Dutch side of St Maarten as an autonomous country holds the world record for the most restaurants per square mile! And on the French side, the beachside town on the northwest coast -Grand Case- sports over 40 bars and restaurants on a mile-long stretch of oceanfront property skirting the Anguillan Channel. And as a whole the island has over 400 restaurants!
Ranging from expensive gourmet restaurants to inexpensive Lolo's "local roadside restaurants that serve traditional and local dishes". A wide variety of foods are commonly found on the island such as fresh seafood, French-style cuisine, Creole-style dishes, Indian cuisine, and more. St. Maarten's cuisine is known for its intensely delicious flavors often made with creole spices, French herbs, or a modern blend of the two. Most meals are also paired with locally made rum, guava berry liqueur, or fine French wine.
With daily flights from France, Holland and the USA – and with perishable food cargo often taking priority – there is an astounding array of wonderful European and American foods available on the island.
Clean, modern supermarkets offer a variety of foodstuffs that would be virtually impossible to find anywhere else in the world in such close proximity. Fresh produce is imported directly from Holland, France, the USA, Britain and Italy, as well as from other Caribbean islands. Indian, Chinese and much other eastern produce is also readily available.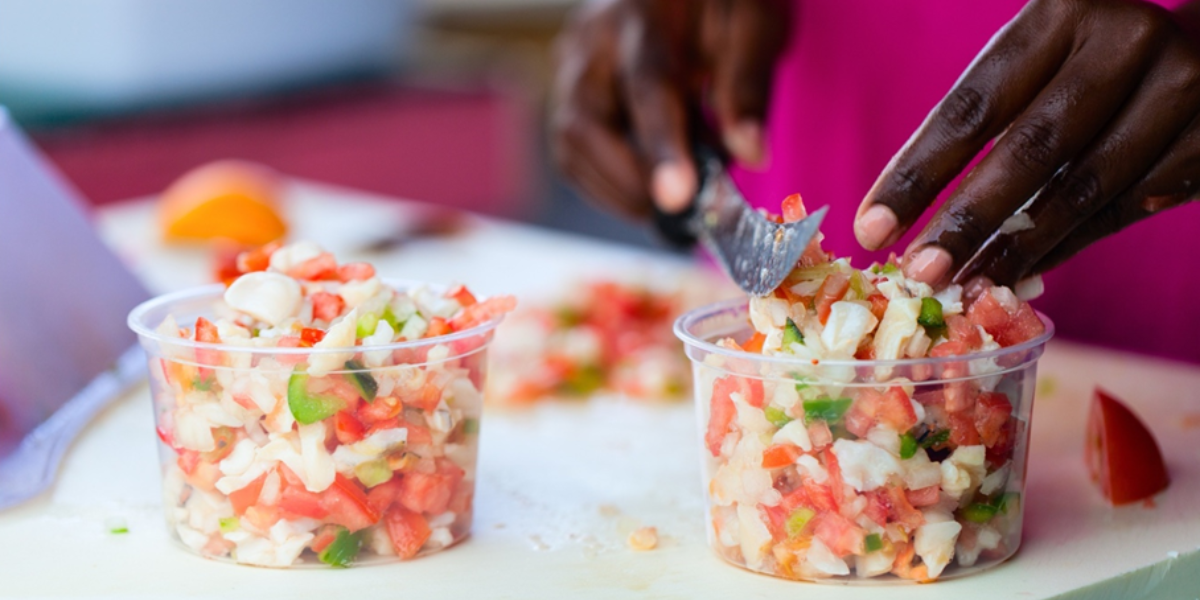 What To Eat In St Maarten
With such a diverse culinary culture and so many dining options to choose from, your mouth must be watering as you ask yourself what the must-eat dishes on this dual-nation island are.
On the Dutch side, the national dish is conch and dumplings. This must-eat dish is hot and spicy and is a true taste of the Caribbean. Local conch is seasoned with various herbs and spices and cooked in a pressure cooker until it's soft and succulent. The conch is served with light, fluffy dumplings and slathered in a rich, decadent gravy. Traditionally rice, vegetables and Johnnycakes accompany this dish.
On the French side, the national dish is Callaloo Soup. Callaloo is a thick green soup made with plenty of greens, such as kale, spinach and, of course, callaloo, a spinach-like vegetable. Other additions to this soup include pork, onions, hot pepper okra, black pepper, thyme and chicken stock.
If you are looking to treat yourself to both of the national dishes of St Maarten, head to Mario Bistrot for an upscale version of conch and dumplings or head over to Yvette's Restaurant in the French Quarter if you prefer a more traditional Caribbean experience.
If callaloo soup tickles your fancy head to a Saturday night local favorite haunt for this delicacy -Ital Shack in Phillipsburg. Captain D's Roadside Grill in Simpson Bay is another great spot for traditional Callaloo soup.
If you fancy yourself as being a bit of a chef, pick up the ingredients you need for this easy conch and dumplings recipe or callaloo soup recipe whilst you are out provisioning and try to recreate it onboard!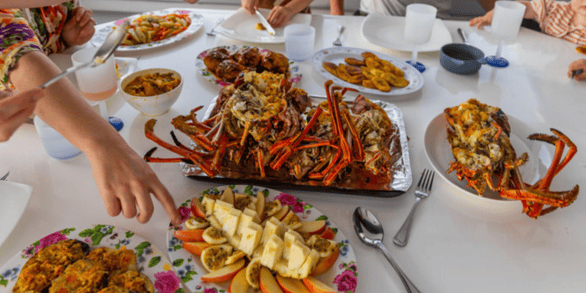 Where to Provision
Finding yourself in the middle of a culinary crossroads in St Maarten you will be pleasantly surprised by the wide array of provisions available – and at a reasonable price too! This is partly thanks to the daily direct flights from Paris and Holland that bring with them fresh produce, cheeses and a whole host of European culinary delights. Add in low-cost American staples available in bulk and locally grown fresh produce, and you are in provisioning heaven!
Finding yourself in St Maarten on a boat inevitably means that you will be visiting the nearby islands of Anguilla and St Barth's, but heed our advice and do all of your provisioning on St Maarten, as these nearby islands have a very limited selection of supplies and at a much heftier price tag than provisioning in St Maarten! Here is a look at some of the best spots to provision around St Maarten.
Note that although some grocery stores and other local businesses may have prices expressed in Netherlands Antilles Florins (NAF), the de facto currency is the US dollar, and all businesses and grocery stores will gladly accept both currencies.
The Supermarkets
Carrefour Market (Formerly Le Grand Marche)
A majority of the yachts that visit St. Maarten will dock in the middle of all the action, in Simpson Bay/Port de Plaisance. The big Carrefour is about a mile or so away on Union Hill Road heading into Phillipsburg. If you find yourself flying into St Maarten and heading over to the Moorings Base, your boat will be on the French side in Marina Fort Louis. Carrefour will then be about five miles away or about a 30 min taxi ride.
Carrefour is the major grocery store on the island, and it's stocked with everything you would expect from a major American grocery store and a whole host of European delicacies! Carrefour will also deliver your provisions to your boat the same day if you shop and pay in-store. Saving you the hassle of loading everything into a taxi. Just remember to tip your delivery drivers!
If competing mega yacht chefs have cleaned out the store, then try the second smaller Carrefour at the circle on Cay Hill Road. But the Carrefour between Phillipsburg and Simpson Bay has by far the best choice in St Maarten. Probably the best in the whole Leewards and Windwards!
On the French side of the island is the Super-U supermarket. Located in the Howell Bay Shopping Center, Super-U has more European fare, which includes charcuterie, cheeses, specialty produce, gourmet condiments and baked goods. About a mile from The Moorings base or a 17 min walk, this supermarket is convenient for those in Marina Fort Louise. Although they are much smaller than the main grocery store, Carrefour in Philipsburg, you will be able to find everything you need if you just want to provision and set sail quickly.
If you need to buy bulk items, then visit the Cost-U-Less near the big Carrefour on Cay Hill Road. You will find a wide selection of bulk dry goods, fresh meat and produce and basic household items. Cost U Less is a superstore akin to Costco or Sam's Club, the difference being that no membership card is required to shop there. The store is located on the public bus route between Simpson Bay and Philipsburg, and you can get there quickly and easily with a $1.50 bus ride.
If you find yourself in Marina Fort Louis, you can simply take your dingy over to Simpson Bay Marina and take the bus to shop there. Cost-U-Less will also deliver your groceries for free right to your boat the same day if you shop and pay in-store. So, when you are done shopping explore Phillipsburg or grab a bite to eat and your provisions will be waiting at your boat when you get back!
St Maarten also has a host of smaller gourmet markets if you are looking for upscale provisions and gourmet items. About halfway between the Super-U in the Howell bay Shopping Centre and Marigot Marina is L'Epicerie de Marie, which has great produce, cheese and fish regularly flown in from Paris as well as caviar, pasta, olive oils and other specialty products.
If you are looking for organic, vegan or vegetarian provisions, go to the market Cupecoy. They are located just north of Simpson Bay on the main road to Cupecoy, right across the Rainbow Beach Club. Market Cupecoy offers a wide selection of American and European organic foods and produce, a wide selection of fine wines, and a hot food and salad bar.
Wednesdays and Saturdays are Market Day at the Marigot Waterfront. Don't be put off by the carts of cheap souvenirs. Take a stroll among the vendors, and you will find fresh, locally grown produce (like mangoes, papayas, soursop, guavas, okra and guineps) and a fantastic selection of spices prepared using old-world traditions. Early in the morning, fishermen will sell fresh fish from their small boats along the sea wall.
Let The Moorings Do The leg Work For You
If you are in St Maarten for a good time and not a long time, your best bet on hassle-free provisioning, and to leave the dock as soon as you get there, is to get your provisions through The Moorings base in Marina Fort Louis.
The Moorings base will take the stress out of provisioning and have your boat stocked with the highest quality of food and beverages and ready to go when you get there.
Order online from the Online Provisioning Store which offers an extensive a la carte inventory with everything you could possibly need.
The Moorings will coordinate all the details and guarantee that everything is aboard your yacht when you arrive. Provisioning must be ordered seven days prior to the start date of the charter. And as part of every charter with The Moorings, you will receive a complimentary Moorings Care Package that includes ice, paper towels, garbage bags, matches, bath soap, toilet paper, sponges, and dishwashing liquid.
What are your tips and tricks on provisioning in St Maarten? Stay tuned for our other blogs on provisioning 101 in the Caribbean!