There is nothing quite as relaxing as casting your lines in the water and slowly trolling along as you cruise between islands. Sipping on local beers and rum until you hear that unmistakable screech and spin of the line flying off the rod. The boat stops, and everybody rushes to the back to watch you reel in the big one! And just as you pull in the biggest Mahi Mahi that anyone has ever seen. A boat pulls up. Presumably to congratulate you on this impressive feat.
Nope. It's the local authorities asking for your fishing permit. And before you can even exclaim "fishing what?" you are slapped with a massive fine and left feeling slightly confused. Because where did that massive Mahi just go?
Fishing in the Caribbean can be a little confusing, as one island requires a permit and is strictly catch and release, and just on the horizon, the neighboring island nation is a complete free for all.
But don't get your lures in a bunch. We compiled a list of all the Moorings Bases in the Caribbean, what to expect fishing-wise from each destination and how to get your fishing permits.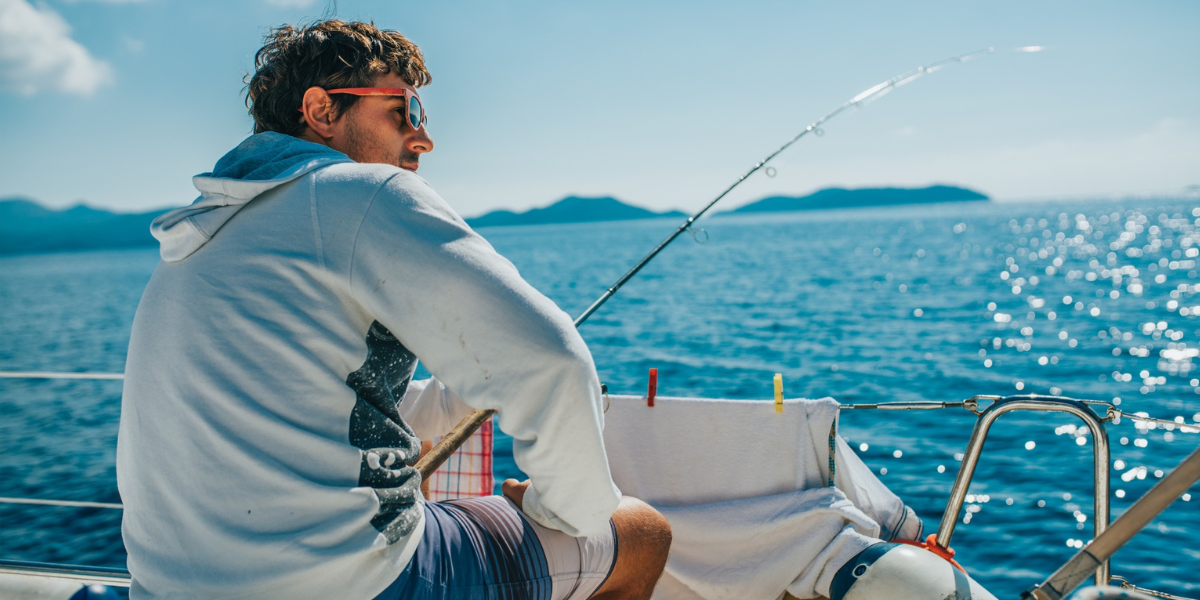 British Virgin Islands
It doesn't matter your experience level or how you like to get your fishing fix; the BVI has it all, including bragging rights to multiple world records of game fishing. If you are looking to cast your rods into the spectacular fishing grounds in the British Virgin Islands, you will need to apply for a fishing permit before your arrival.
The process is relatively quick and painless -taking up to 10 business days – and costs $65 per person. Note that the fishing permits are per person and not per boat, so every person above 18 years old on board that is wanting to cast a rod needs to apply for a fishing permit.
Fishing in the BVI is on a catch-and-release basis, and as ciguatera is a big problem in the area, it is unwise to eat any reef fish. Taking lobster or spearfishing is also prohibited. The use of Scuba equipment to capture or remove any marine animal or coral is against the law, and so too is fishing within the boundaries of any marine park.
With your fishing permit in hand, you can look forward to exceptional bone fishing in the shallow reef fringed flats of Anegada. If your crew includes kids, or if you are trying to hide from fickle weather and rough sea conditions, inshore fishing is a great option and could land you Barracudas, Bonita's, Yellow Tail Snappers, Jacks, Kingfish and even Tarpon.
If the weather plays along, you can try your hand at offshore fishing and try to reel in a trophy fish from the deep Caribbean waters. Common offshore fish include Blackfin Tuna, Blue Marlin, Sailfish, Mahi Mahi, Wahoo and Yellow Fin Tuna.
Trolling a line behind your catamaran during your British Virgin Islands adventure can prove to be very worthwhile. Troll your way towards Anegada at about 5-7 knots, and you could score Wahoo and Mahi Mahi.
You can obtain your fishing license online through Sail Caribbean Divers. Once granted the fishing permit is only valid for one month. Sail Caribbean Divers also offers spinning rods and trolling rods for daily and weekly rental.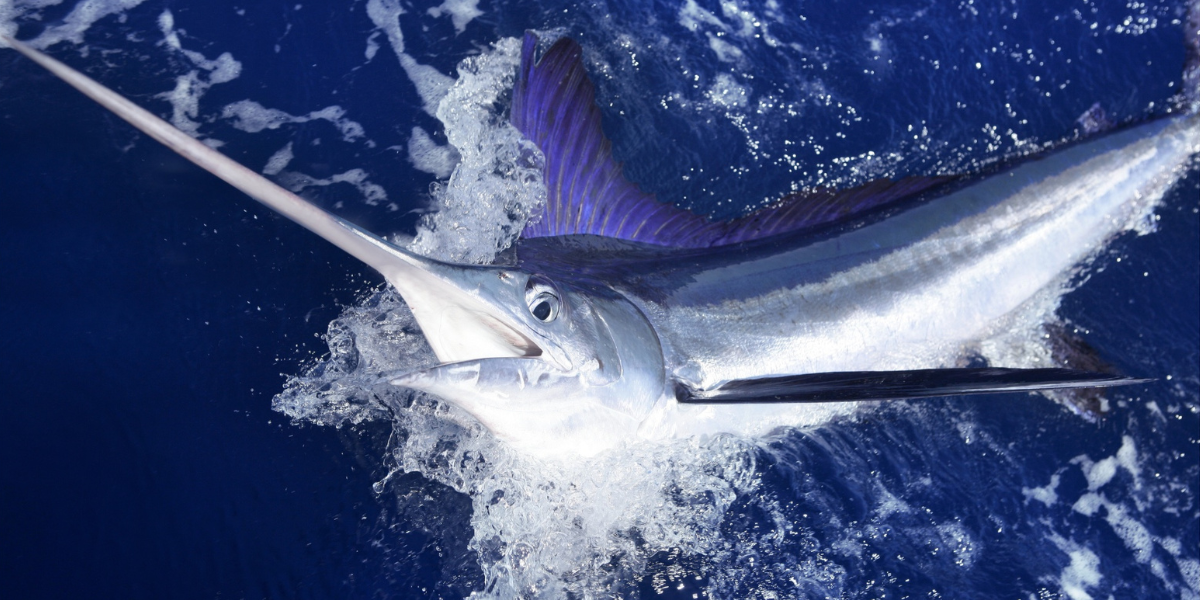 Grenada
Grenada sportfishing is known as one of the best deep-sea fishing venues in the Caribbean. Grenada has excellent marlin fishing and superb Yellowfin Tuna fishing – with an average size of over 100 lb!
And you know what makes the fishing in Grenada even better? Fishing licenses are not required for trolling a line while underway! The deep waters of Grenada are likely to catch you Spanish Mackerel, Marlin, Tuna and Kingfish. Most of Grenada's sport fishing is done on the island's west side, in the lee. Easterly trade winds make for seriously choppy conditions on the east side.
If you are serious about your fishing, you will want to visit Grenada from December through April for the best chance of catching "the big one", but Yellowfin Tuna in the 100- to 200-pound class can be wrangled on any given day.
If you really want to prove your worth on the fishing scene, make sure to be in Grenada in late January for the Spice Island Billfish Tournament —the largest billfish tournament in the southern Caribbean.
Spearfishing is illegal to all non-residents, and fishing rods are available for rent at the Moorings Base for $10 per day.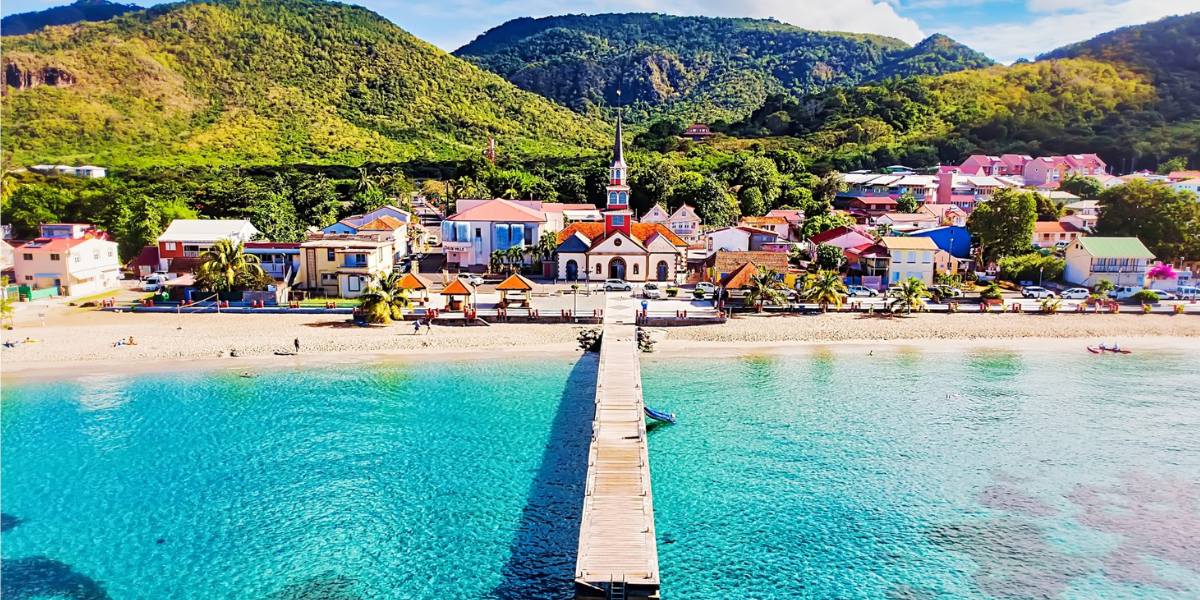 Martinique
If you are heading down to Martinique to start your sailing adventure, the great news is that this is another Moorings Base location that does not require any fishing permits!
Fishing with a line or a rod is permitted, except in marine parks, and as is the case in most of the Caribbean, spearfishing is forbidden. The best time to go offshore fishing in Martinique is from June to January.
Although blue marlin and sailfish are around all year, the best time of the year for marlin fishing in Martinique is December, January and February. Barracuda, Wahoo and Skipjack Tuna abound year-long, and Dorado can be found in Martinique from November to February.
Fishing gear rentals are available locally, but if you are really looking to hook a trophy sport fish, consider leaving your boat at anchor and heading out for a half or full day of deep-sea fishing with a local sport fishing company.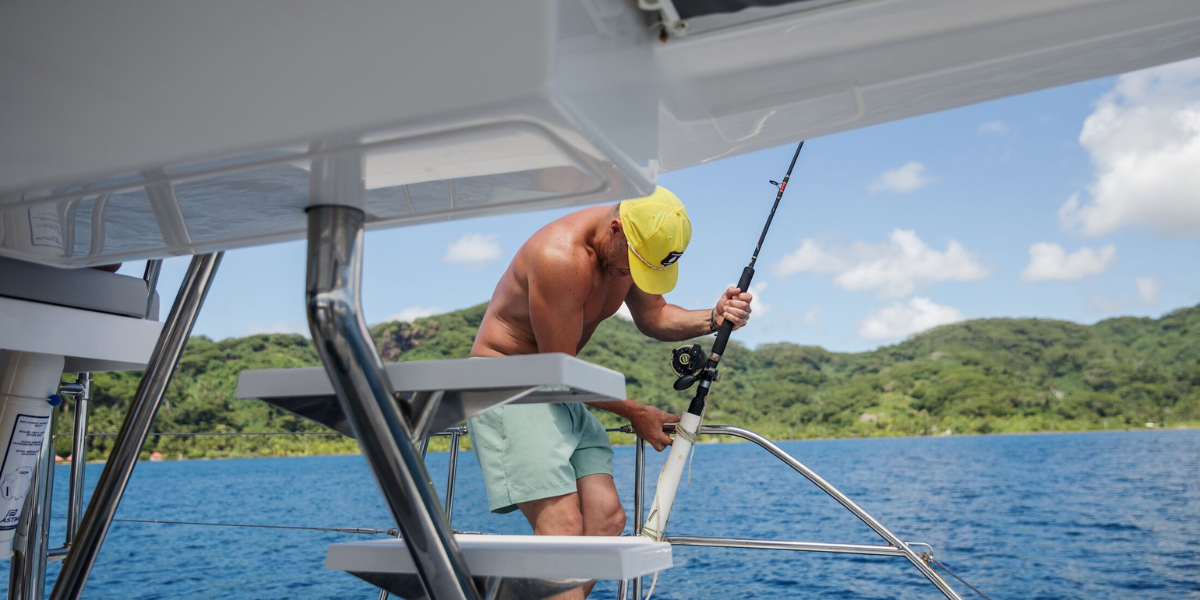 Antigua
Antigua is another great Moorings Base location that offers superb fishing without requiring a license.
Unfortunately, fishing gear rentals are unavailable locally, but you can bring your own gear and are free to trawl off the stern of your catamaran if you are not in a marine reserve. Spearfishing is prohibited for tourists, but Antiguan Citizens with a specific license are allowed to spearfish. Pole spearfishing is allowed for Lionfish and collecting lobsters are also prohibited.
If flying in with your fishing gear sounds like too much of a hassle, there are several sport fishing charters that you can book locally that will provide full or half day deep sea fishing adventures.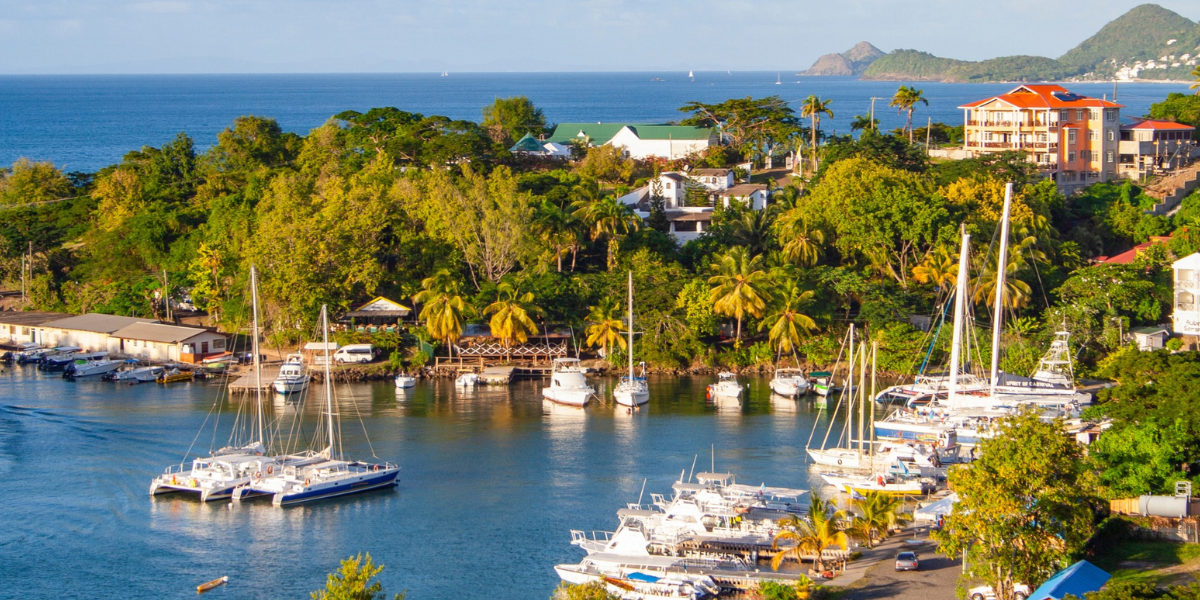 St. Lucia
Fishing is a cultural staple in Saint Lucia. The government has laws and regulations in place to protect the local marine life and support the livelihoods of the locals.
There is a catch-and-release policy for visitors for most types of fish around the island. This allows for more fish to remain and reproduce in the ecosystem, so fishing can continue to sustain future generations.
No fishing license is required at the St Lucia Moorings Base. Fishing equipment can also be rented through The Moorings base at $20 per day.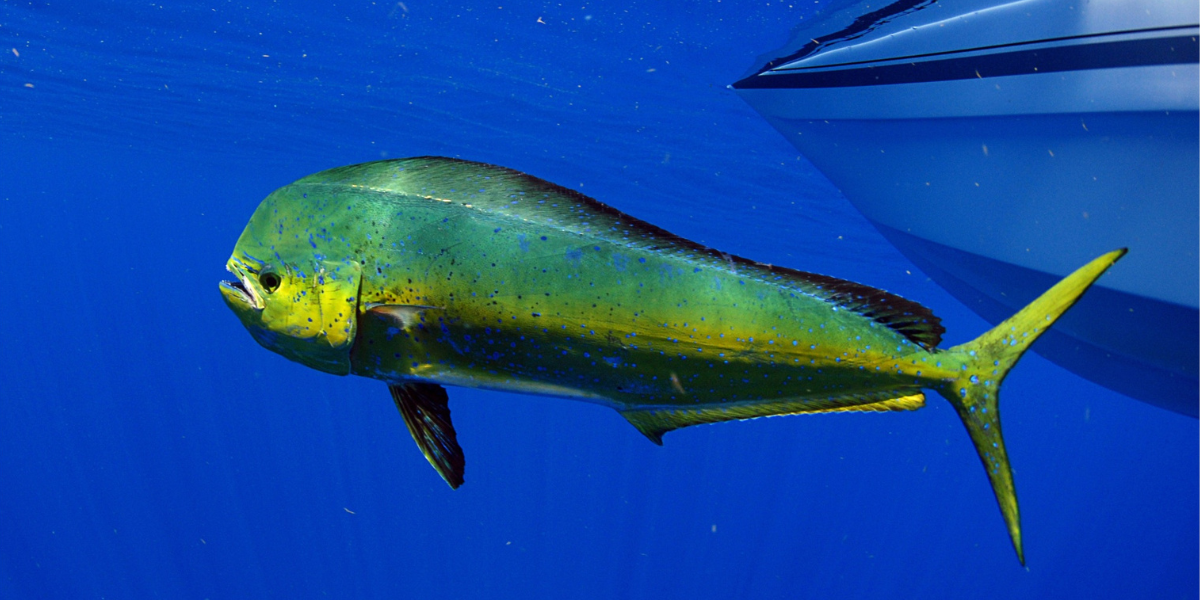 St. Martin
The dual island nation of St Maarten / St Martin does not require a fishing license to fish from shore or your boat. But as ciguatera is highly prevalent in the area, it is best not to eat your own catch of the day unless you know exactly what you are doing.
Most of the shallow reef fish, like snapper and grouper, carry ciguatera; if you are planning to eat what you catch head out to deeper water where bigger game fish like, Wahoo, Tuna and Mahi Mahi are generally considered safe to eat.
That said you will see a lot of locally caught snapper and grouper on the menus in St. Martin, but these are caught in fish traps in deeper water. Fish are very territorial, so those caught in traps are generally considered safe.
Besides making sure you know what you are catching and what to eat and what not to eat, St Maarten has great fishing year-round.
In October, the Wahoo is known to be more common around the island. Spring to summer are the main months to catch Mahi-Mahi. Marlin and sailfish can be caught all year but the summer months tend to be the best for this catch.
Fishing gear can be rented from the Moorings Base in Marina Fort Louis at $60 per week, payable in cash only.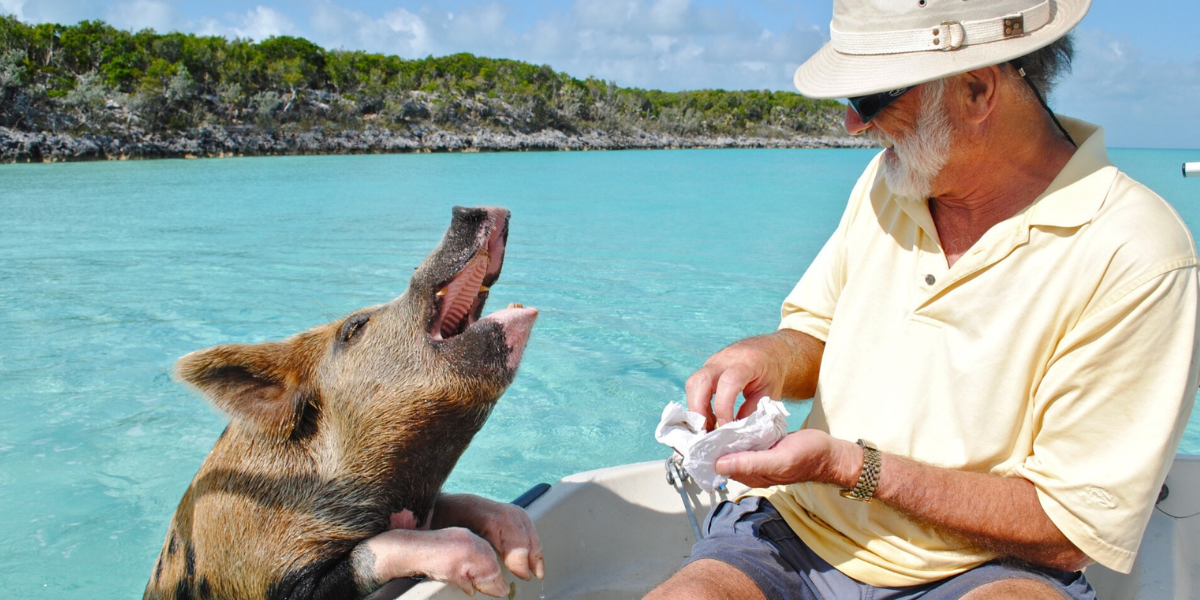 Bahamas
There is probably no other Caribbean Moorings base as popular with fishing enthusiasts as the Abacos and Exumas bases in the Bahamas.
A sport fishing permit is required if you are fishing using a Non-Bahamian owned boat, but chartering your catamaran from the Moorings means you do not need to acquire a fishing license.
And what a fishing paradise the Bahamas is! And if you are skilled enough, you will have your fill of fresh local seafood!
Spiny Lobster season is from August 1 to March 31. The minimum size is a 5 1/2 inch tail length or 3 1/4 inch carapace length (measured from the base of the horns to the end of the jacket). Unlike Florida, lobster may be taken by a spear, although spearfishing for any other species is illegal. It is also illegal to take or possess female lobsters with eggs. The vessel bag limit is six per person at any one time.
There is no closed season on conch, but it's illegal to take or possess immature conch. In order to be legal, conch must have a well-formed lip (or flared lip). The vessel bag limit is ten per person at any one time. If you have ever been to the Bahamas, you will surely know how delicious conch fritters are, but making them is a whole other ball game and requires some skill and patience to get the conch out of its shell and to properly prepare them. Thus, it's better to leave them alone and enjoy some conch fritters on land instead.
The vessel bag limit for scale fish is 20 pounds per person. The minimum size for any member of the grouper family is three pounds.
Stone Crabs may be taken if the claw length is four inches or greater. The season is closed from June 1 - October 15. It is illegal to harvest female stone crabs. And if you don't know the difference between a male and female stone crab, is best to leave it to the experts before you get hit with a massive fine.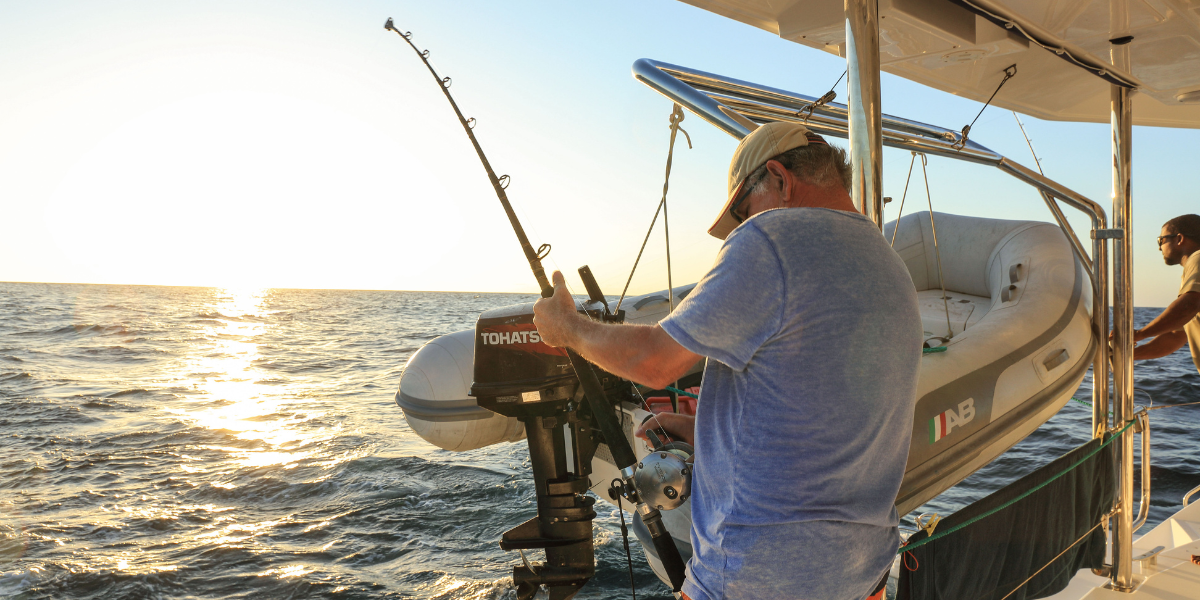 St Thomas (USVI)
Unlike the neighboring British Virgin Islands, the popular sports fishing waters of US Virgin Islands do not require fishing permits. Although, if you are picking up your catamaran in the USVI, you will most likely be cruising the BVI's, and thus it's advised to make sure you have your BVI fishing license in place when you are starting your sailing adventure in St. Thomas.
You can look forward to hooking Spanish Mackerel, Barracuda, Marlin, Tuna and Kingfish in these waters. Spearfishing is illegal to all non-residents, and fishing rods can be rented at the Moorings base at $10 per day.