Have you ever thought about taking a charter vacation with The Moorings? I was lucky enough to charter the brand new Moorings 464 Powercat (Leopard 46 PC) in Miami in March of 2022, and it was one of the best experiences of my life! While the Moorings 464PC is not currently available for charter in Florida, I can only imagine how much more of an outstanding experience it would have been island hopping in the Caribbean. If you've ever wanted a detailed description of a charter trip, look no further. Read more about my experience below.

The Moorings 464PC
The new Moorings 464PC boasts splendor, with plenty of outdoor living spaces, and all of the home-away-from-home accommodations and comfort of her big sister. Equipped with twin 320 hp Yanmar engines and a maximum range of 1600 nautical miles, no other type of motor yacht can compete in terms of efficiency and performance. The Moorings 464PC was spacious and comfortable enough to fit our group of people on our 3-day excursion. Our crew chartered the 3 cabin / 3 head version of the 464PC, although offered by The Moorings is the 4/ 4 version and I personally stayed in the port aft cabin. Throughout the entire trip, I never felt cramped and always had ease of access to my belongings in my room. It was truly a cozy vacation living on-board for a few days! It felt like a luxurious Airbnb, with the advantage of changing our scenery when we felt like it.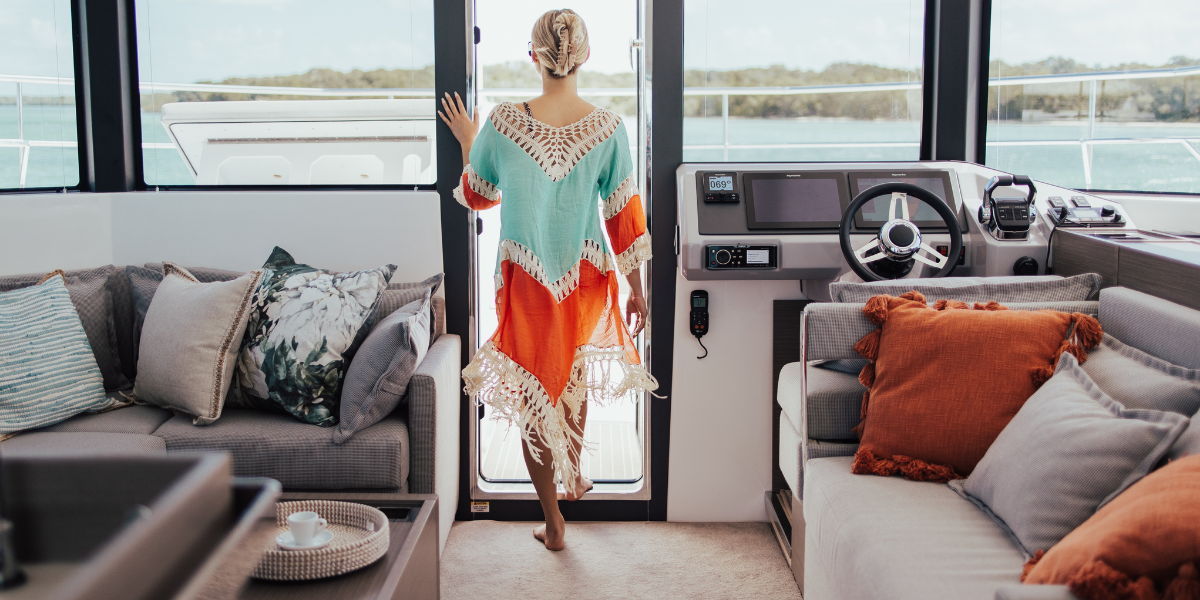 Packing List
I am usually a heavy packer when it comes to vacations, but this time I knew I'd be sharing a cabin with my significant other, so I tried to be conservative. Between the two of us, we had plenty of room to store all of our packed belongings. Our cabin had a nice-sized closet for our clothing on hangers and a large drawer to store one of our bags. There was also ample shelf space on either side of the bed for our phone chargers, wallets, sunglasses, books, and other small items. For our trip, I made sure I packed a bikini for each day and one extra (just in case!). I also packed beach clothes, a beach towel, and sunscreen of course. For our lovely sunset dinners, I packed a few sundresses, pairs of shorts, and a cardigan for those occasional windy nights. I brought my toiletries, pajamas, and a few pairs of sandals and hats in anticipation of days in the sunshine. I was very happy with what I packed and never had that, "I think I'm forgetting something" feeling that I left something important at home!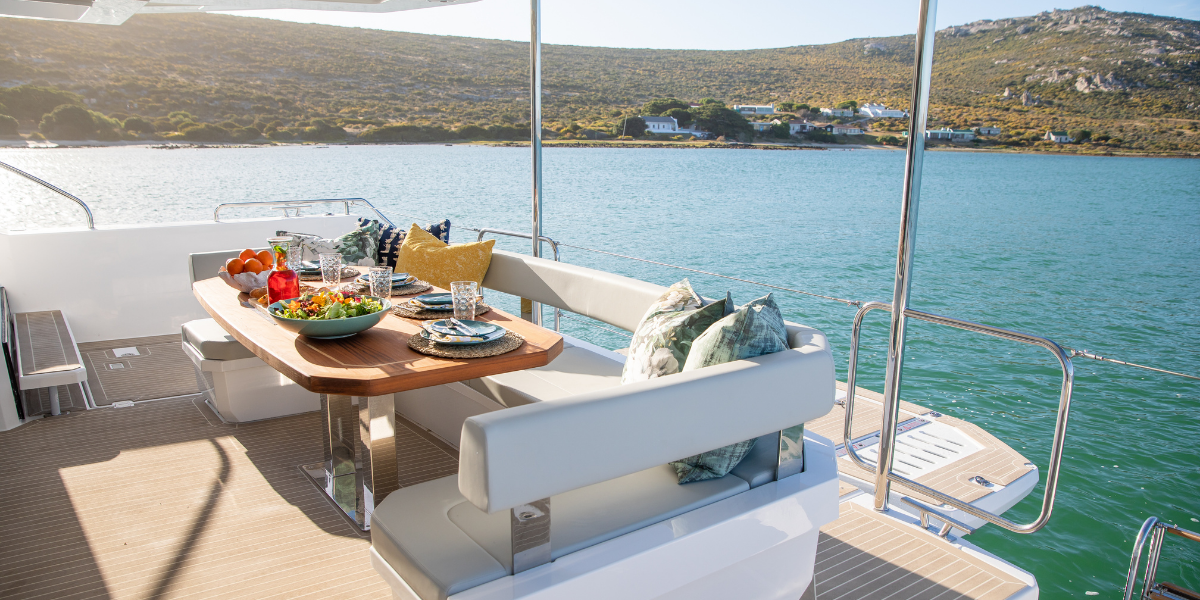 Provisioning
The galley of The Moorings 464PC is outfitted with a domestic-sized refrigerator/freezer to make provisioning a cinch. Charter vacations through The Moorings come with everything from bedding, to towels, silverware, pots/pans, and cookware. This was a huge weight lifted off of our shoulders! A few friends and I brought some of our favorite foods/snacks in order to cook our meals on board. Some items on our grocery list included: condiments, hotdogs, hamburgers, buns, chips, dip, potato salad, mac 'n' cheese, shrimp, taco toppings, quesadillas, cheese, cold cuts, bread, cereal, milk, eggs, and more! We tried to keep our food options simple, as we wanted to spend most of our vacation out of the kitchen and in the sunshine, but it was nice to know that we could cook even the most complex dish if we truly wanted to!
Days on Board
Most days during our charter started right at sunrise, we weren't wasting any time! We spent light hours cruising the outskirts of Miami, tanning in the sun, swimming, snorkeling, and exploring little islands we found. Once we were on board, we made it to our destination to anchor, placed our belongings in our room, and the charter was all smooth sailing from there (or should I say power cruising)! My favorite part of the trip is when we anchored at Elliot Key. We got to explore some of the islands and beaches in the key, and even saw a few manatees right under us! It was the coolest experience and my best days are spent soaking up some sunshine.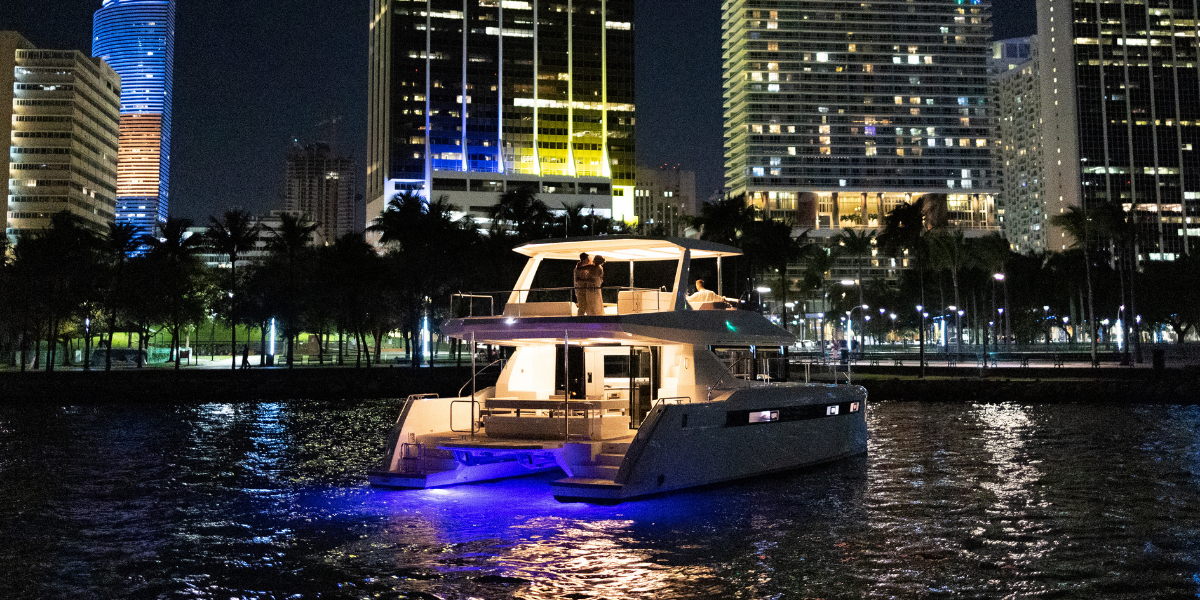 Miami was everything I expected it to be in so much more! Aside from the bright lights of the city, it was a welcomed surprise to be able to head 22 miles south where we enjoyed what felt like a very remote destination.