Tony Rainold and his wife, Sherryl, along with Charlie and Ginnie Cary, the founders of The Moorings, met as you would expect -- through sailing. And the idea to open a charter company in the Caribbean came as all great ideas do, under the influence of rum.
The Moorings has come a long way when you think about it. Starting out with Tony and his wife booking charters and marketing the product in their New Orleans home and starting with just Charlie and Ginny Cary working at the base in Tortola. The Moorings now employs somewhere around 800 people worldwide, is located in 20 destinations worldwide and has a fleet of 400 yachts. But it all started with six Pearson 35's half a century ago. Tony remembers, "We had about $120,000 between myself, Charlie and our third partner. We went up to the New York Boat Show in January of 69', and we had already been talking to a few manufacturers and looking at different designs. We became enamored with Pearson Yachts. They had a 35 ft. centerboard sloop called a Pearson 35, and we ended up ordering six of those at the show."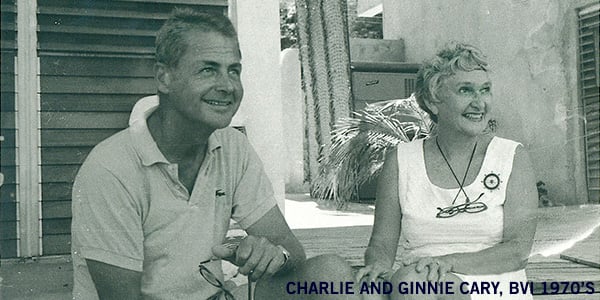 Choosing the first destination
Deciding on the destination of choice took a lot of time, a lot of planning, and a few strokes of luck. After five or so months of searching the Caribbean to find the right location, they had honed in on the Virgin Islands, for obvious reasons. Charlie and Tony caught wind that in August of 1969 an air service would be instituted in Tortola, BVI. And with the news, they knew what their next move would be. "Having learned that, we chartered a motor boat and went over to Tortola to start talking to people. We met a guy from Houston who had just bought a couple of waterfront apartments in Road Harbour and we ended up buying two apartments and the rights to use the small dock he had out in front. So that's where we decided to have our base," Tony explains. And so there you have it, the first charter base to ever exist in the BVI.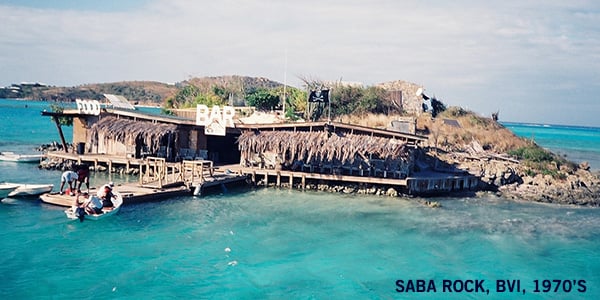 Pieces fall into place
While Charlie and Ginny were busy getting the base ready for opening, Tony and Sherryl were in New Orleans getting the word out. "We started making a brochure and getting ads into sailing and yachting magazines. And we just started booking charters over the phone. It was amazing the interest that was there.I was actually working for a mining company for the first three years and Sheryll was at home answering the phone and working on the brochures," Tony recalls.
In the summer of 1969 those six Pearson Yachts were delivered by freighter to San Juan, PR, and then delivered to Tortola by Tony and his wife, in addition to Charlie and Ginny. Tony shares, "We got the first two boats off the freighter, stepped the masts and rigged them at the San Juan Yacht Club and then sailed them over to Tortola. And that's how we really started."
Building the business
Charlie and Tony realized pretty early in that they were going to need more than six boats if they wanted to take business to the next level. Once they got through the first year, they started talking with builders about designing a yacht that would be good for charter. The pair headed down to Florida to collaborate with Charlie Morgan of Morgan Yachts. They decided on a design that was much more beamy than that of your typical monohull at the time. And of course, for the charter fleet, the yachts were an instant sensation. "The boat was a Morgan Out Island 41. And in 1971, we headed back up to the New York Boat Show, but this time it was to sell the boats. We got a deposit on all ten available boats. It was amazing," Tony explains. Three years in, as the business continued to grow, Tony decided time to leave his job with the mining company, rent an office and hire some help. But that doesn't mean that things slowed down for Tony. He remembers the hard work put in, "I was constantly creating brochures with Sherryl and I would travel down to the BVI frequently to learn the area. We'd take pictures and write up the brochures. And when the boats were getting delivered to Clearwater, FL I'd have to go over to Clearwater to the boat factory to see the boats, check up on the production and make sure everything was going right. But then when the boats came out of production I would go receive the boats from Morgan Yachts and then I would commission the boats. We had a big trailer and a couple of suppliers and we would buy everything we needed and store them in the trailer. I would do all the varnish work, rig the boats and hire a delivery crew to sail them down to the BVI. I was wearing so many hats at that time."
It was not long after that initial order of 10 Out Islands, that Tony and Charlie decided to order 20 more. Tony was in charge of selling those yacht and it was never a difficult task. Tony recalls that it's the idea of owning a yacht in the Caribbean that had people excited and ready to invest.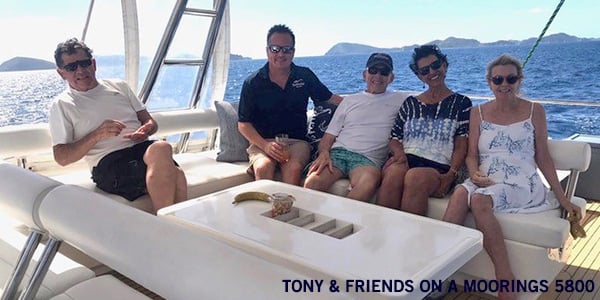 Obvious reasons for success
It is not by coincidence that The Moorings has seen success for 50 years. "I imagine that The Moorings is as successful as it is today because they follow what Charlie and I did from the beginning, which is to have high quality boats and provide a high quality service. There is a lot of expense that goes into making those things happen. I think that's always been the key. When a charterer comes down and something is not working we would make it right immediately. We had chase boats that you could call up if the water pump isn't working or if the engine won't start. We'd just zip out there and get them going again. I think it was that attitude. I can't emphasize how hard we worked, and I think that work ethic has gone forward with the company."
But all of the hard work was worth it, as Tony remembers, it provided him the opportunity to go sailing, and to bring that dream to other people too. "When my son, who is 51 now, and his sister were babies, we had a bassinet with telescoping legs that we would adjust to the heel of the boat. And they grew up sailing with me. The best part about starting this business was the opportunity to travel and sail in so many beautiful places. I was working tooth and nail, and it was difficult, but at the same time we loved what we were doing because we loved to sail and we loved the beautiful BVI. I loved to be able to share the opportunity to sail in a beautiful destination with other people."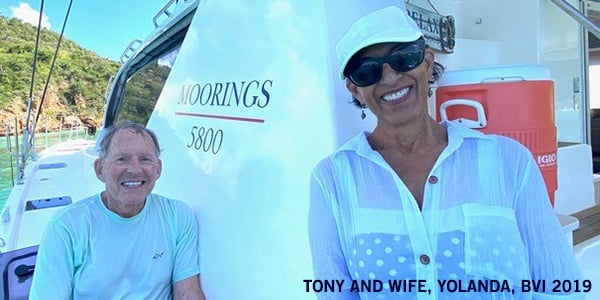 How time changes things
In the early 70's, if you wanted to book a week long charter it would have set you back somewhere around $400. To charter a yacht of similar size (38 ft. - 41 ft.) today, you'd have to multiply that number by 15. "I can't wrap my head around how much the business has grown. I always thought of it as a mom and pop operation. It became a real entity in 1985. I kept my ownership in the company, which was right about the time I stopped actively working in the business. The company that purchased us was associated with Group Beneteau. At that point we were buying a lot of boats from Beneteau because at that time the dollar was very strong against the French franc, and Beneteau built a really good boat." So good, in fact, that Tony bought one for himself, which he enjoyed racing (and winning those races) for many years.
"When I left the company in the 1980's we had 20 people working in the New Orleans office. We had help with sales, marketing and bookings. I had also started a travel agency, Mariner International, because we realized we had a captive business. Everyone was going down to the same location so that was a lucrative business for us. We had airline booking agents in addition to the charter agents. I think when I got out in 1985 we had close to 200 boats, we had opened up a base in St. Lucia in Marigot Bay. We had bought a company in the South Pacific with bases in Tahiti and Tonga."
Tony and Charlie left quite a legacy. Starting out, they couldn't have imagined that two salty sailors would be the pioneers of a multi-million dollar industry that spread across the entire globe. Today we thank them for bringing us the opportunity to sail in the world's most stunning destinations, from the comfort and excitement of a private boat.