Continuing our provisioning survival guide throughout the Caribbean, this month we set sail to the lesser-explored, quaint islands of the Abacos.
If you're yearning to experience the Bahamas without the hustle and bustle of Nassau, you're in for a treat. The northernmost islands in the Bahamas have preserved their charm, free from masses of tourists, mega-resorts, and cruise ships. Here, you can escape the rat race and embrace a laid-back paradise with no itineraries, no deadlines, and no artificial entertainment.
Described by some as what the Virgin Islands were like 20 years ago, this statement definitely applies to your provisioning options too.
While provisioning here may present challenges with fewer options and smaller stores, the rewards lie in discovering hidden gems, immersing yourself in an authentic island experience, and keeping in mind that plan A can quickly turn to plan Z when provisioning in the remote Abacos.
The Moorings base now offers convenient and easy online ordering for all your provisioning needs at this destination, but if you are feeling adventurous and want to explore what the local markets and supermarkets have to offer, here is your ultimate survival guide to provisioning in the Abacos.
Provisioning for All Tastes: Grocery And Specialty Stores in The Abacos
The Abacos offer a range of provisioning options, from small well-stocked grocery stores on the main island to charming local markets in smaller settlements. As long as you are not expecting an array of gourmet or specialty products, you will be pleasantly surprised at what's on offer (when the shelves are stocked) at the local stores.
Marsh Harbour:
Marsh Harbour, located on Great Abaco, is the largest town in the Abacos and also where you will find the Moorings Base and your starting point for provisioning and exploring the Abaco Islands.
The 'Big' Grocery Stores
In Marsh Harbour, you'll find the best provisioning in all the Abacos with large (by small island standards) grocery stores, including Maxwell's Supermarket and Abaco Groceries.
These two supermarkets are your best bet for stocking up on essentials like canned goods, fresh produce, meats and drinks. But that said, keep in mind that everything gets brought to the island by container ships, and as these are often delayed, especially in the peak winter season, you might find yourself browsing empty isles on the day you plan to provision. Don't expect fancy or even gluten-free or vegan items here.
700 Wines and Spirits
If you're in need of beverages and spirits, this Bahamian liquor store chain in Marsh Harbour is a popular store with an extensive selection of wines, beers, and liquors.
Treasure Cay - A Treasure Trove of Provisions
Sawyer's Fresh Market:
Sawyer's Fresh Market in Treasure Cay offers a diverse selection of groceries, including fresh produce, meats, and a range of international products. The market is open daily, allowing you to stock up whenever you need to replenish your supplies. Once again, don't expect anything fancy, but they are usually well-stocked on the basics.
Specialty Shops:
While in Treasure Cay, don't miss out on exploring the local specialty shops. These hidden gems offer unique ingredients and gourmet items to elevate your culinary adventures. Keep an eye out for homemade jams, sauces, and spices that add a touch of Bahamian flair to your meals.
Green Turtle Cay - A Provisioning Paradise
Sid's And Curry's Food Stores
These two small grocery stores are your only two options in Green Turtle Cay. These local no-thrills stores provide a delightful provisioning experience with their friendly staff and well-stocked shelves. From fresh fruits and vegetables to locally caught seafood, you'll find all the basics you will need to restock midway through your trip. Both are open Monday to Saturday from 8:00 AM to 5:30 PM.
Local Bakeries
While exploring Green Turtle Cay, make sure to follow the scent of freshly baked bread and pastries wafting through the air. Grab some warm bread, fresh pastries, and sweet treats for a beach picnic or midnight snacking sessions onboard.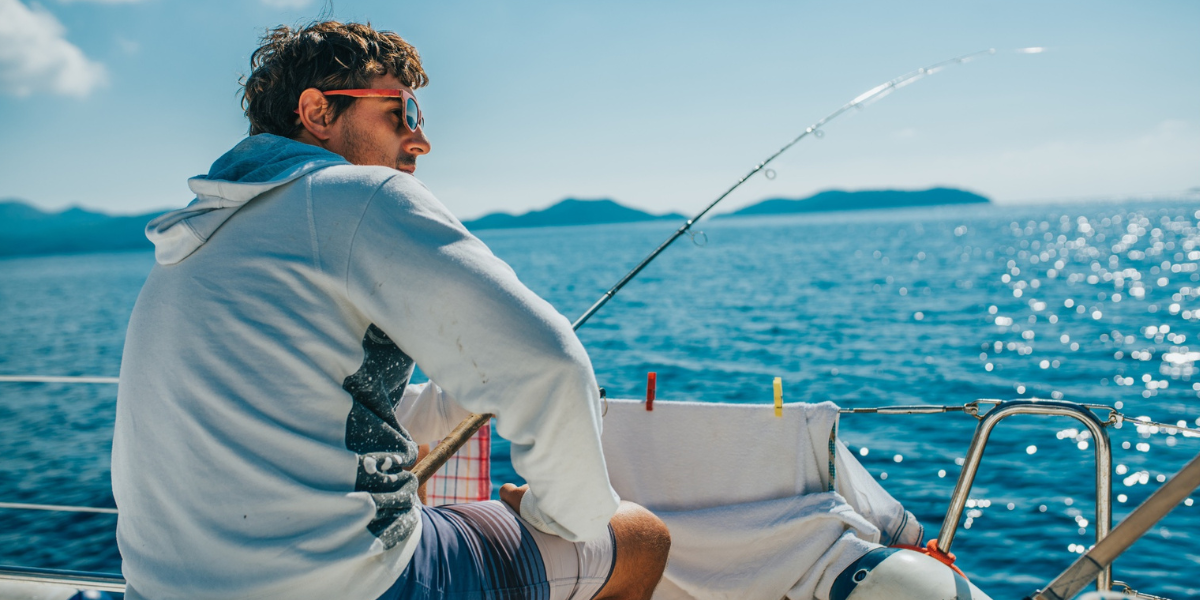 Hook, Line And Dinner: Provisioning From The Sea
If you are in the mood for local fresh seafood and don't quite trust your fishing skills, then head to the local fish markets in Marsh Harbour for the freshest catch of the day.
Keep in mind that the availability of seafood may vary depending on the fishing season and weather conditions. A&A Seafood is located on the corner of the only traffic light in Marsh Harbour (it's really hard to miss!) and has a wide variety of local fresh fish, conch and lobster.
There are also a host of local fishermen that sell directly to the public. Ask around to find a reliable fisherman or ask the friendly staff at the Moorings base to steer you toward a local fisherman that will be able to deliver fresh fish and seafood right to your boat.
Unleash Your Inner Angler
For the adventurous souls yearning to catch their own dinner, grab your fishing gear and try your luck in the Abacos' plentiful waters. Fishing permits are obtainable here, and fishing gear can be rented from the Moorings base in Marsh Harbour.
Keep an eye out for mahi-mahi, yellowfin tuna, and wahoo. To protect the marine environment, spearfishing and spear guns are illegal in the Bahamas. Fishing is prohibited in Pelican Cays Land, Sea Park, and Fowl Cay Preserve.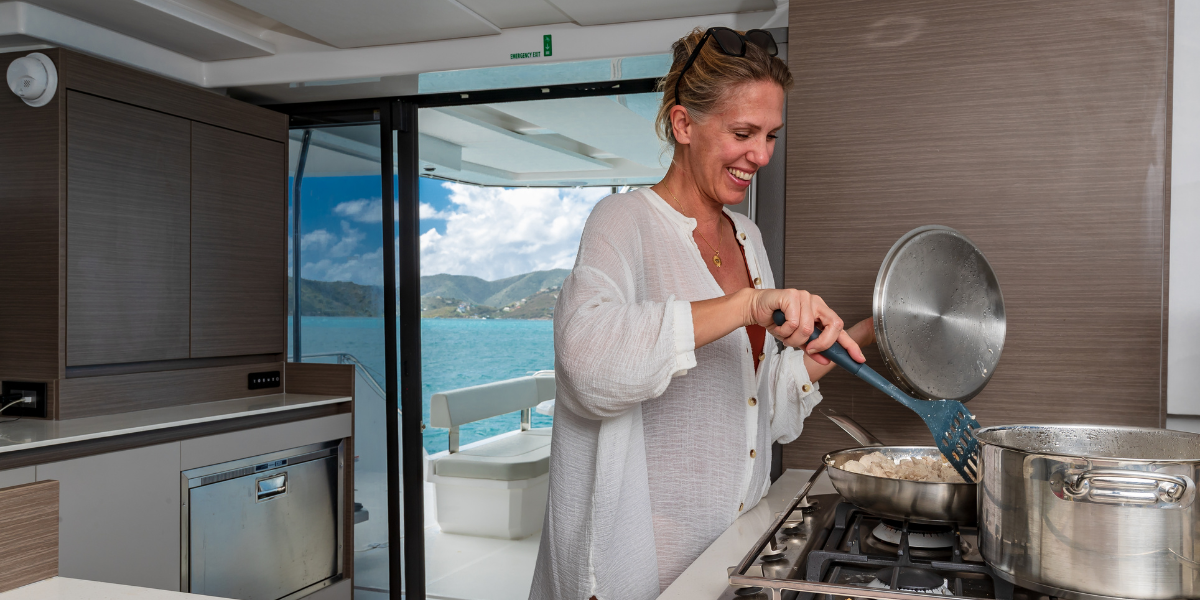 Timing is Everything
Ah, the secret ingredient to provisioning success: timing! Here's a helpful rundown of store schedules and seasonal availability in the Abacos:
Store Hours and Days
While most stores in the Abacos follow regular operating hours, it's essential to know that some may close earlier on Sundays or are not open at all. Plan your provisioning accordingly, and remember that a little flexibility goes a long way in the world of provisioning in the Abacos.
Peak Season (December to April)
During the peak season in the Abacos, you'll be spoiled for choice when it comes to provisioning. The stores are usually well-stocked, and the variety of fresh produce and seafood is abundant. Make the most of the local harvest by indulging in succulent pineapples, mangoes, papayas, and freshly caught conch.
Q
uiet Season (May to November)
During the quieter months in the Abacos, some stores may have reduced inventory or shorter operating hours. Embrace the challenge and get creative with the local offerings. Experiment with lesser-known produce, chat with friendly locals for insider tips, rent some fishing gear and try to catch your own dinner.
Lobster Season
If you're lucky enough to visit the Abacos during lobster season (August 1 to March 31), make the most of this local delicacy. Local fishermen and markets will have an abundance of fresh lobsters available for purchase. Don't miss the opportunity to indulge in mouthwatering lobster dishes onboard or at a local restaurant.
Stone Crab Season
Stone Crabs may be taken if the claw length is four inches or greater. The season is closed from June 1 - October 15. It is illegal to harvest female stone crabs. Catching your own stone crabs can be a pain, and local fishermen will sell them to you straight from their boats during the season.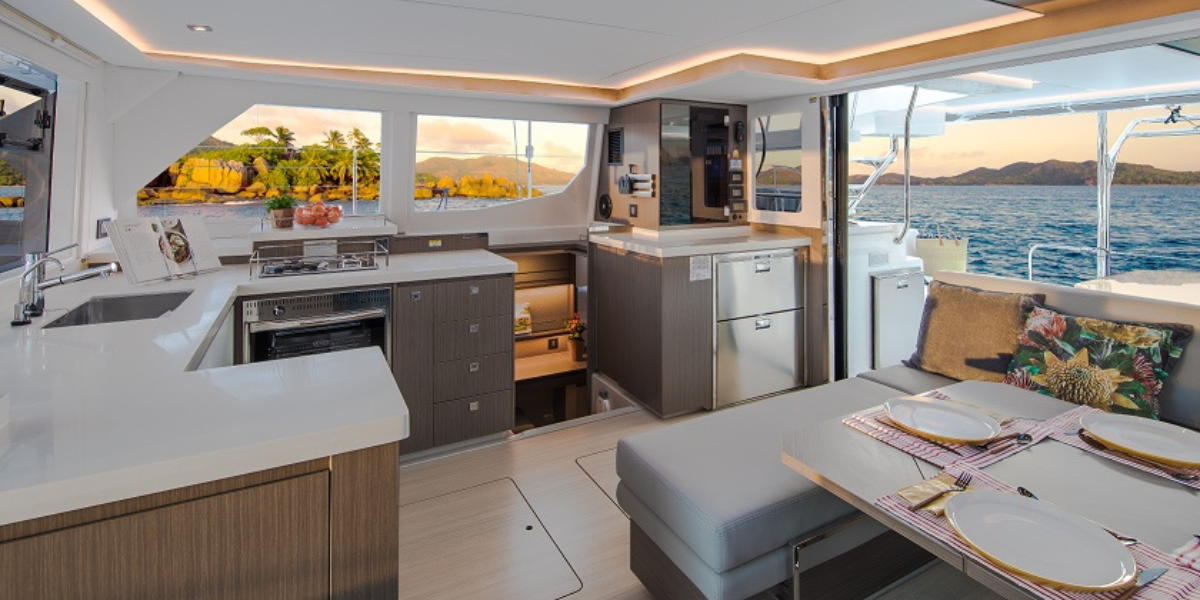 Storage Secrets for Smooth Sailing
So, you've finally provisioned like a boss, but how do you ensure your precious provisions stay fresh and appetizing throughout your sailing adventure? Here are a few storage tips to ensure your provisions remain crisp and fresh during your Abacos adventure.
Smart Meal Planning
Before setting sail, carefully plan your provisions to avoid overstocking or running out of essential items. Consider your trip duration, the number of people on board, and any dietary preferences or restrictions. Create a comprehensive list of ingredients and quantities to ensure you have enough food without excess. This planning process will help you optimize storage space and minimize food waste.
Plan your meals in advance, considering the perishability of ingredients. Utilize the freshest produce early in your trip and save heartier items for later. This strategy ensures your provisions last throughout your catamaran adventure.
Leftover Management
Minimize food waste by properly storing and utilizing leftovers. Transfer leftover meals into airtight containers and refrigerate them promptly. Label containers with the date and contents to easily track freshness. Consume leftovers within a few days or freeze them for longer storage. Vacuum-sealed bags are ideal for freezing, as they prevent freezer burn and preserve food quality, but Ziploc bags will work just as well.
Fresh Produce Preservation
Extend the life of fresh produce by storing them properly. Avoid washing fruits and vegetables until you're ready to use them to prevent premature spoilage. Place perishable items like leafy greens, herbs, and berries in sealed bags or containers lined with paper towels to absorb excess moisture. Some fruits, such as bananas and avocados, should be stored separately to avoid accelerated ripening.
Provisioning in the Abacos, Bahamas is an opportunity to immerse yourself in the local flavors and culinary wonders of this tropical paradise. As long as you keep an open mind and understand that shipping delays and empty shelves are a part of small island life, you will be able to find everything you need to cook for friends, family or even a romantic sailing getaway for two. Happy sailing and happy provisioning!