It's a debate as old as the sea itself: Sailboats vs powerboats. Tradition vs Innovation. The topic continues to spark debate and always will. But does it all really have to be so clear-cut? Can't there be a time and place for both?
There comes a point in any sailboat owner's life where they become a little boat-curious and wonder what life would be like without the sails that require constant care and maintenance. And there is no shame in admitting that sometimes you just really, albeit secretly, wish that you could get there faster.
While Moorings owners are sailors by nature, more power catamarans are sold to charter owners in Phuket, Thailand, than sailing catamarans. The reason? Dispersed cruising grounds and unpredictable winds and weather. As a sailor, there is no shame in admitting that some cruising grounds are just better suited for power catamarans if you are limited on time.
As someone that has spent the better part of 10 years living and working on sailing catamarans, I have learned a thing or two about when it's all about the journey and when it's all about the destination. With over 700 islands in the Bahamas and 365 islands just in the Exumas alone, the Bahamas is one of those "all about the destination cruising grounds."
Here's a look at how ditching the sails and firing up the engines can make for a better Bahamian cruising experience.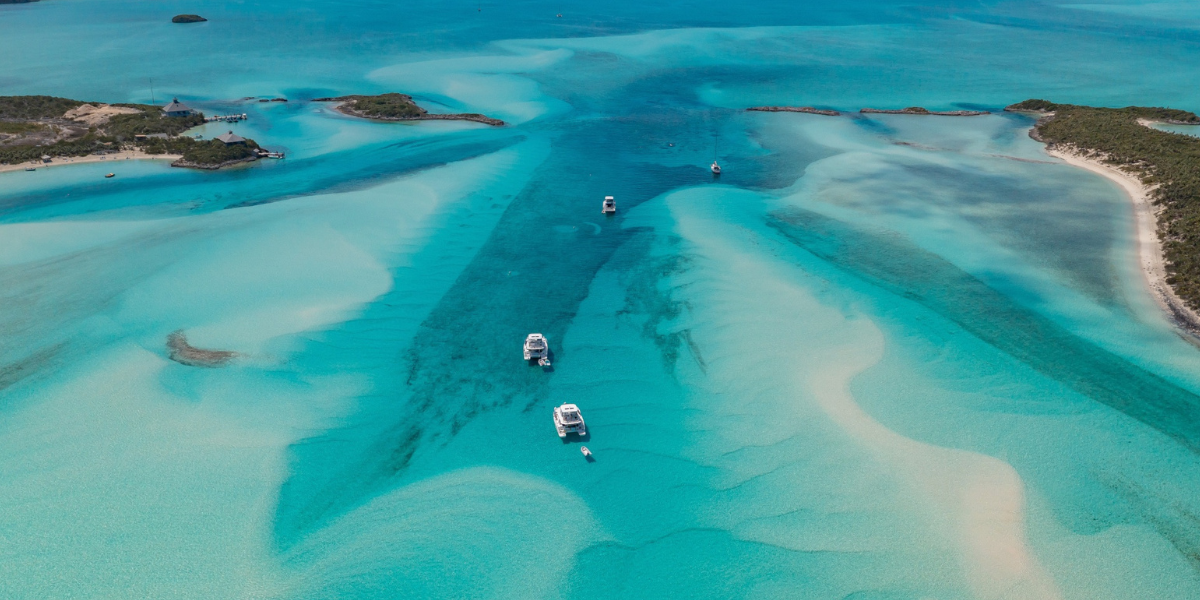 It's About the Destination, Not The Journey
Some destinations, if you want to make the most of them, require a little bit of fluidity in your choice of vessel. For example, The British Virgin Islands were practically designed to be enjoyed with a sailing catamaran: You never lose sight of land, there is deep water everywhere and the islands are all mere minutes apart. But when it comes to the shallow, vast, long, drawn-out cruising grounds of the Bahamas, a power catamaran is your ultimate tool in enjoying the islands to their fullest.
Too many times have I been on a sailing catamaran in the Exumas with friends, family or guests that are absolutely beyond excited to set sail out of Nassau, only to realize one hour in that maybe they were not the boat people they thought they were. And before long, the dreaded "Are we there yet?" question starts rolling in.
A sailing catamaran will get you from Nassau to the first most northern point of the Exumas in about 6 hours. In contrast, a power cat will do that in less than half the time, in about 2 hours and 40min.
Yes, sailing and being on the water is about the journey, not the destination. But with vast distances to cover and over 365 islands to explore in the Exumas alone, there is room to make an exception that sometimes the destination takes president over tacking up and down.
Another thing to remember when you want to make the most of your time in the Bahamas is that many attractions are tidal, unlike most other Caribbean destinations. This means that if you want to snorkel the infamous airplane off Norman, you need to be there at slack tide, as the current rips through there, and I have been on more than one dinghy rescue mission when the tides were not right.
Think you can just go to the famous Thunder Ball Grotto for a snorkel at any time? Think again. You have to keep an eye on when it's low tide to be able to enter the cave safely. The same goes for a lot of cuts and other popular snorkeling spots.
Planning your days around the tides is simple enough when you can fire up the engines and get to where you want to be quickly, and many times have I seen even the most avid sailor rather motor to beat the tides than sailing.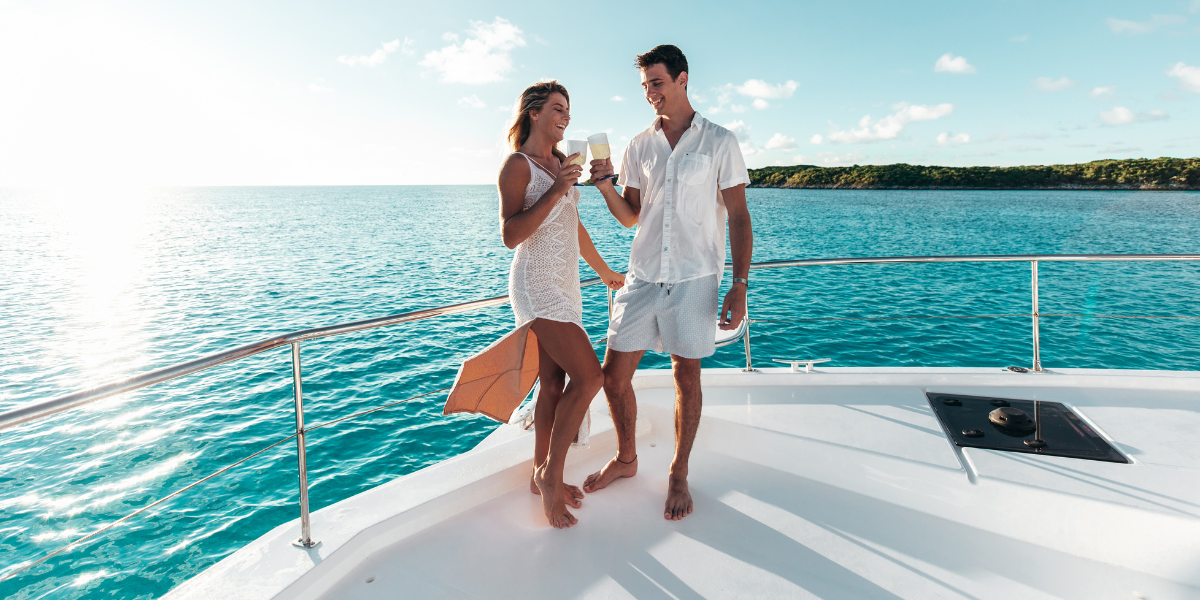 Consider Your Crew
The biggest factor that should sway even the most die-hard sailor is, "Who are you bringing with you?".
I have made this mistake more than once by taking a 'keen sailor' out on a 14-hour passage, only to find that they have never, and will never, be blessed with sea legs. And that their sailing experiences will only consist of a head in a bucket begging to get to land.
It's one thing taking experienced sailors on a trip, but if you are planning on taking kids, grandkids, parents, grandparents or even friends with little to no sea time, you will soon realize the value in getting to your destination sooner rather than later in the vast cruising grounds of the Bahamas.
Considering the safety and enjoyment of your crew, especially if they are novices, will go a long way in making your Bahamian vacation a delight instead of constant stress about sailing long distances. And as hard as it might be to believe if you are a true sailor, the idea of sailing for 6 hours in rough weather is not enjoyable to everyone.
And the weather is definitely something to keep an eye on in the Bahamas. It can get really nasty really quick in the peak winter cruising months, and if the rest of your crew is not knowledgeable on how to handle full sails in a nasty squall, you might have some white-knuckle moments more often than you would like.
The Bahamas already comes with a host of challenges: shallow waters, cuts that can only be navigated in the slack tide, shifting sand banks, coral heads and crowded anchorages. Giving a novice crew a break by not having to worry about sailing will go a long way in making for a happy crew.
Not a slave to the weather
There are numerous jokes about sailors spending more time looking at their weather apps, waiting for the perfect wind than looking at their actual surroundings. Switching to a power cat in the Bahamas will have you spending a lot less time watching the weather and planning your long-distance cruising time around it.
Power cats will give you a large time-saving in being able to pull the anchor and go instead of waiting for that elusive perfect wind to finally pick up.
And as both summer and winter squalls and storms can suddenly appear on the horizon, a power cat offers the speed to quickly outrun any nasty weather and drop anchor before everybody gets soaked trying to pull in a jammed sail.
A Great Fit For A Changing Lifestyle
There comes a time in every cruiser's life when they are in it more for the enjoyment of exploration than battling the elements and feeling like Hemmingway.
Unfortunately, health and related issues often dictate when it is time for a change when it becomes uncomfortable or otherwise difficult to sail and handle even a small-sized sailboat.
People become less able to maintain their balance as they age, and a host of related issues become facts of life. Arthritis, joint replacements, and back problems can make sailing much more demanding and even a little scary when it is blowing.
The same goes for growing families with little ones who still want to enjoy the freedom cruising or vacationing on a catamaran brings without the added stress of dealing with babies and sailing.
There's no shame in switching from sail to power in the Bahamas if it means the enjoyment of your crew, a changing lifestyle and having more time to enjoy the spectacular beauty of what this vast cruising ground has to offer. When it comes to making the most of your time in the Bahamas, consider enjoying the destination more than the journey for once.